32.55 sq. ft. per box

SKU:

10029941

Our Low Price

$6.96/sq. ft.

Special Price $1.49/sq. ft.
This item is currently out of stock at central warehouse. May be in-stock at your local store. Call for availability.
Product Description
Specs
Installation
Reviews
Q & A
BELLAWOOD- 1/2" x 4-3/4" Acacia Prefinished Engineered Flooring- 100 Year Warranty!
Bellawood Engineered Hardwood Floors feature a multi-ply cross-layered wood core and a solid 3 mm thick veneer(dry-sawn top layer). This construction design offers more dimensional stability for wide planks, making them less susceptible to the climatic effects of moisture or dryness. 
Other benefits of Bellawood Engineered Hardwood Floors include:
- Easy installation directly on slab, subfloor, linoleum, or tile.- Better resistance to humidity and moisture changes (Virtually eliminates buckling and twisting)- Length: 350mm (Nominal 13") - 1200mm (Nominal 47") Average Length: 600mm (Nominal 23-5/8")- Click installation- More environmentally responsible use of woods.
Best of all, Bellawood Engineered Hardwood Floors feature a Lifetime Structural Warranty and 100 Year Bellawood Finish Warranty!
Crafted Meticulously. Harvested Responsibly. We understand the importance of healthy forests. That's why we only buy from suppliers who practice responsible harvesting and carefully manage their cutting with replanting strategies in place. For us, it's not just about being responsible citizens. It's about being a responsible business too.
A birthday cake without frosting?That's a floor without matching trim and molding.Click here to find our extensive selection of natural & stained trims and moldings so that you can match wood species to your new floor.(Who else can do that?)
Order now through our web site, visit your local store, or Call 1-800-HARDWOOD
  We caught up with real Lumber Liquidators' customers who volunteered to discuss their floor shopping, buying and installation experiences. In no way did these customers receive compensation for their kind words. (They're speaking straight from the heart.)
Brand: BELLAWOOD Engineered
Installation Type: Click, Glue
Hardness Rating: 74% harder than Red Oak
Weight per box/unit: 56.57
3/28/2014
Excellent flooring
By Jay
from Wolf Bay,Alabama
About Me:
Pros: Rich Quality Appearance, Straightforward Install, Sturdy Construction
Cons: none
Best Uses:
Comments about BELLAWOOD Engineered 1/2" x 4-3/4" Acacia Engineered: The Acacia is a beautiful flooring. Excellent grain patterning. Thick, sandable hardwood layer. Sturdy interlocking construction. Straightfoward installation.
Bottom Line: Yes, I would recommend this to a friend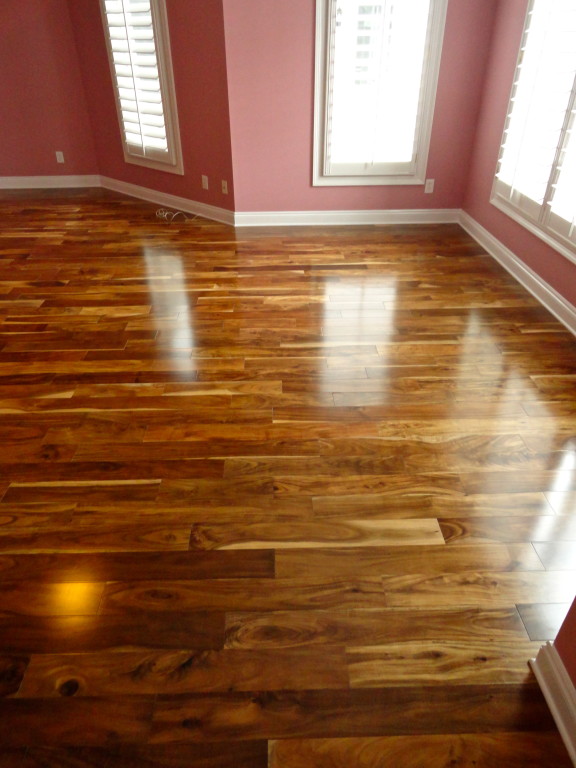 1/28/2014
bella flooring doing whole home
By pat
from cibolo, texas
About Me:
Pros: Easy To Install, Marine Grade Plywood, Transferable Warranty
Cons: none
Best Uses:
Comments about BELLAWOOD Engineered 1/2" x 4-3/4" Acacia Engineered: great product looked at a lot did not compare
Bottom Line: Yes, I would recommend this to a friend
Q: What region is the source of the short leaf acacia? And is it an arid or humid climate in which it grows?
Asked on 2/7/2016 by kokopelli
A: This product is harvested in China. I realize this doesn't answer the second part of your inquiry (info not available), but due to the fact that this is kiln dried lumber the climate that it is grown in is irrelevant.
Thank you for your inquiry.
Answered on 2/15/2016 by cc-2
Q: How thick is the wear layer on this product?
Asked on 2/21/2014 by DD from Grapevine
A: Bellawood engineered has a 3 mm wear layer a superior finish. It is factory pre-finished with a solvent-free aluminum oxide-based finish. During the multi-step application process, each coat is cured using Ultraviolet (UV) light. Bellawood pre-finished flooring offers superior wear resistance and is backed by a limited 100-year warranty.
Answered on 2/27/2014 by Tech & Install
Q: what is the difference between short leaf and long leaf acacia? Why is there only 1 long leaf acacia listed? what is the finish on these products?
Asked on 11/5/2013 by T from MARSHFIELD
A: Short Leaf acacia has a janka rating of 2250 and the Long Leaf Acacia has a janka rating of 830-930. For the reason of one listing of Long Leaf acacia Please call our Sales Dept. @ (800) 476-0007 for availability. Our Bellawood floors are factory pre-finished with an aluminum oxide water-base urethane using a multi-step application process. (8) coats are applied to most domestic and exotic wood species and each coat is hard-cured using Ultraviolet (UV) light. Bellawood pre-finished flooring offers superior wear resistance and is backed by a limited 100-year warranty! (The exact formula is propietary information) The formula for the Bellawood finish is a custom mix that has a 50/50 gloss. The sheen you get is shinier than satin, but not as shiny as semi -gloss. The average dry film thickness for Bellawood is about 3.65 mils – one of the highest in the industry.
Thank you for your inquiry
Answered on 11/6/2013 by cc-3